Tampa Bay Gun Shows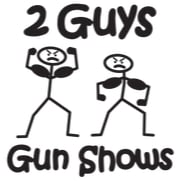 Largo Event Center
Largo, FL
Sat, Dec 9th – Sun, Dec 10th, 2023
Welcome to our original gun show location! We are the best gun show in Pinellas County. Over 100 tables of guns, ammo, knives, accessories, parts, and a great collection of antique items as well. Come ready to buy, sell, or trade for your new or used item.
Concealed Weapon Permit Class available, please call for more info.
The 2 Guys Largo Gun Show will be held next on Dec 9th-10th, 2023 with additional shows on Feb 17th-18th, 2024, in Largo, FL. This Largo gun show is held at Largo Event Center and hosted by 2 Guys Shows. All federal and local firearm laws and ordinances must be obeyed.
December
January 2024
February 2024
March 2024
April 2024
May 2024
June 2024