Ohio Gun Shows
Find all the Ohio gun shows on this 2023 events calendar.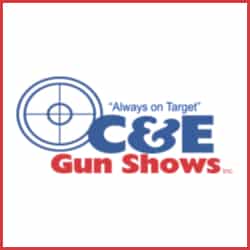 Sharonville Convention Center
Sharonville, OH
Sat, Sep 30th – Sun, Oct 1st, 2023
The Cincinnati (Sharonville) Gun Show will be held next on Sep 30th-Oct 1st, 2023 with additional shows on Nov 4th-5th, 2023, and Dec 9th-10th, 2023 in Sharonville, OH. This Sharonville gun show is held at Sharonville Convention Center and hosted by C&E Gun Shows. All federal and local firearm laws and ordinances must be obeyed.
No photography or video allowed without written permission of Promoter. No media interviews allowed. NO LOADED FIREARMS--NO EXCEPTIONS!
September
October
November
December
January 2024
February 2024
March 2024
April 2024
May 2024
June 2024
July 2024
August 2024
September 2024
The Ohio Gun & Knife Show Calendar
Visit a Ohio gun show today and you'll surely find out why people in the Buckeye State love to hunt!
Our shows gather some of the leading gun vendors and promoters around. With so many great options available, we know you'd find yourself putting together your own collection of guns, knives and accessories too.
Share your love for guns with our guests. Get the best deals on the guns and accessories you want. Navigate our tables with ease. Our shows are organized such that you can connect, negotiate and meet new friends with ease.
New to gun shows? No need to fret. Read up on our 101 Gun Show Tips and you'd soon be navigating the showroom like a pro. Get the best deals and effectively connect with vendors and gun enthusiasts alike.
For updated gun laws, make sure to check out our Gun Law Book. This is a must-read for all responsible gun owners.
Have you found what you need? Before you leave, please make sure to keep up-to-date with what's new. Sign up for our RSS feed or weekly newsletter.